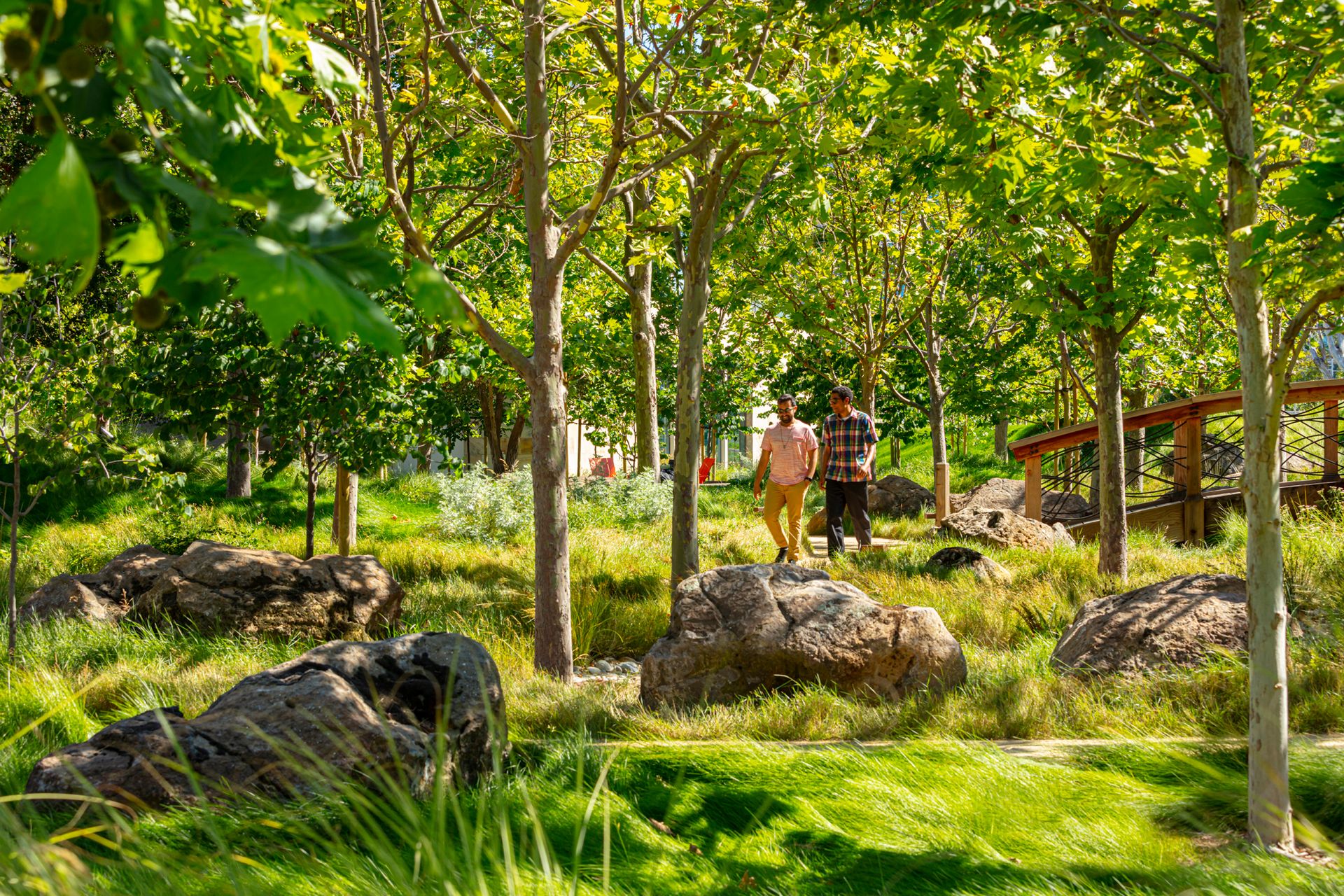 Moffett Towers II
Turning Over a New Leaf
Bridging an Island and a Neighborhood
The rapid growth of leading Silicon Valley tech companies has propelled their recent expansion into Sunnyvale. The Jay Paul Company aimed to advance their long-term commitment to Sunnyvale's Moffett Park as a prominent innovation hub in Silicon Valley and commissioned us to design a new large-scale development – on a site that had belonged to defense contractor Lockheed Martin.
Off-limits to the public and lacking a sense of place, the site was an isolated "defense island." Our brief was to transform it into an integrated campus that would provide an exceptional work experience and support the evolving neighborhood fabric.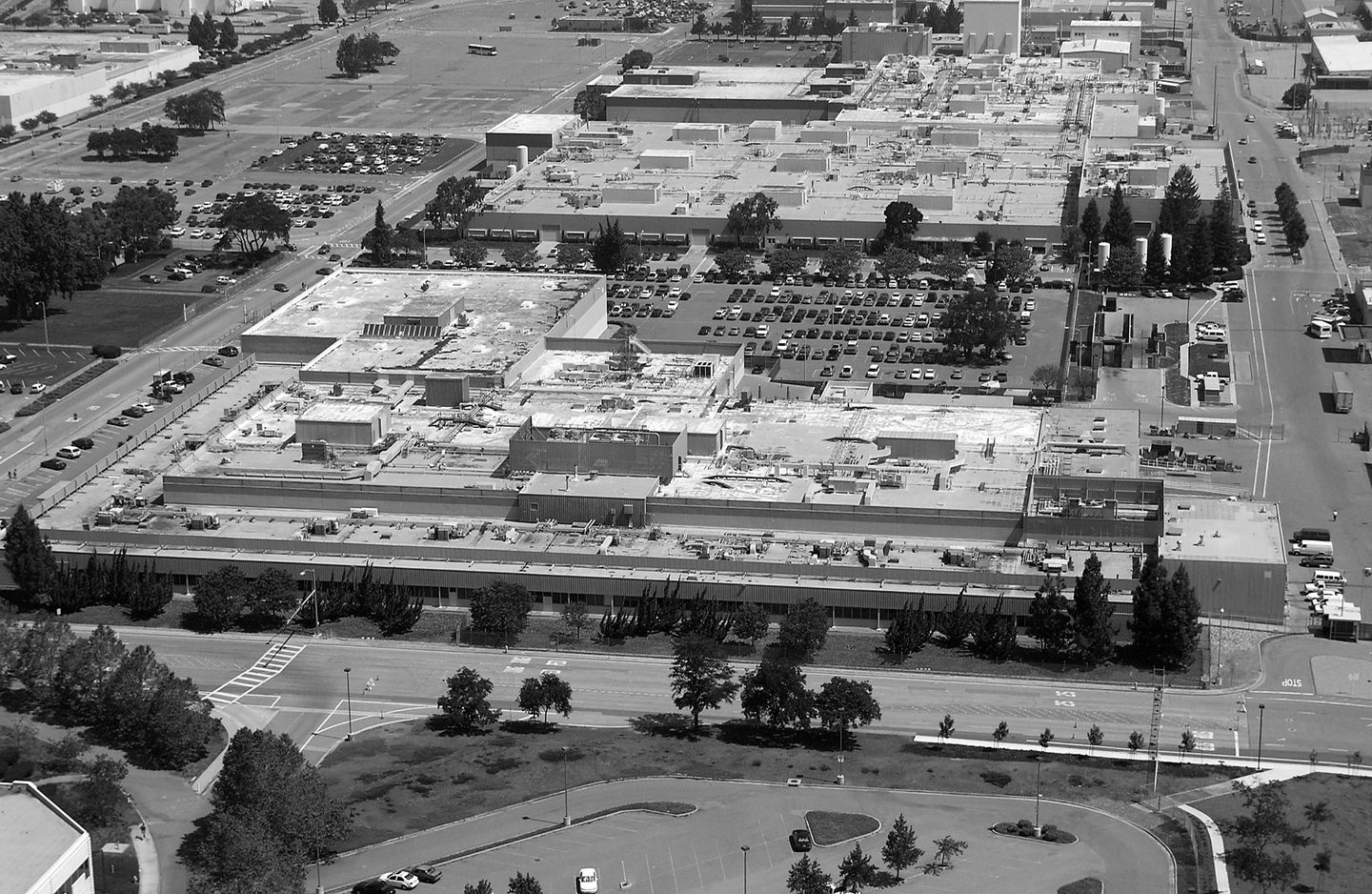 Sealed off from the neighborhood, the site had been a labyrinth of buildings and parking.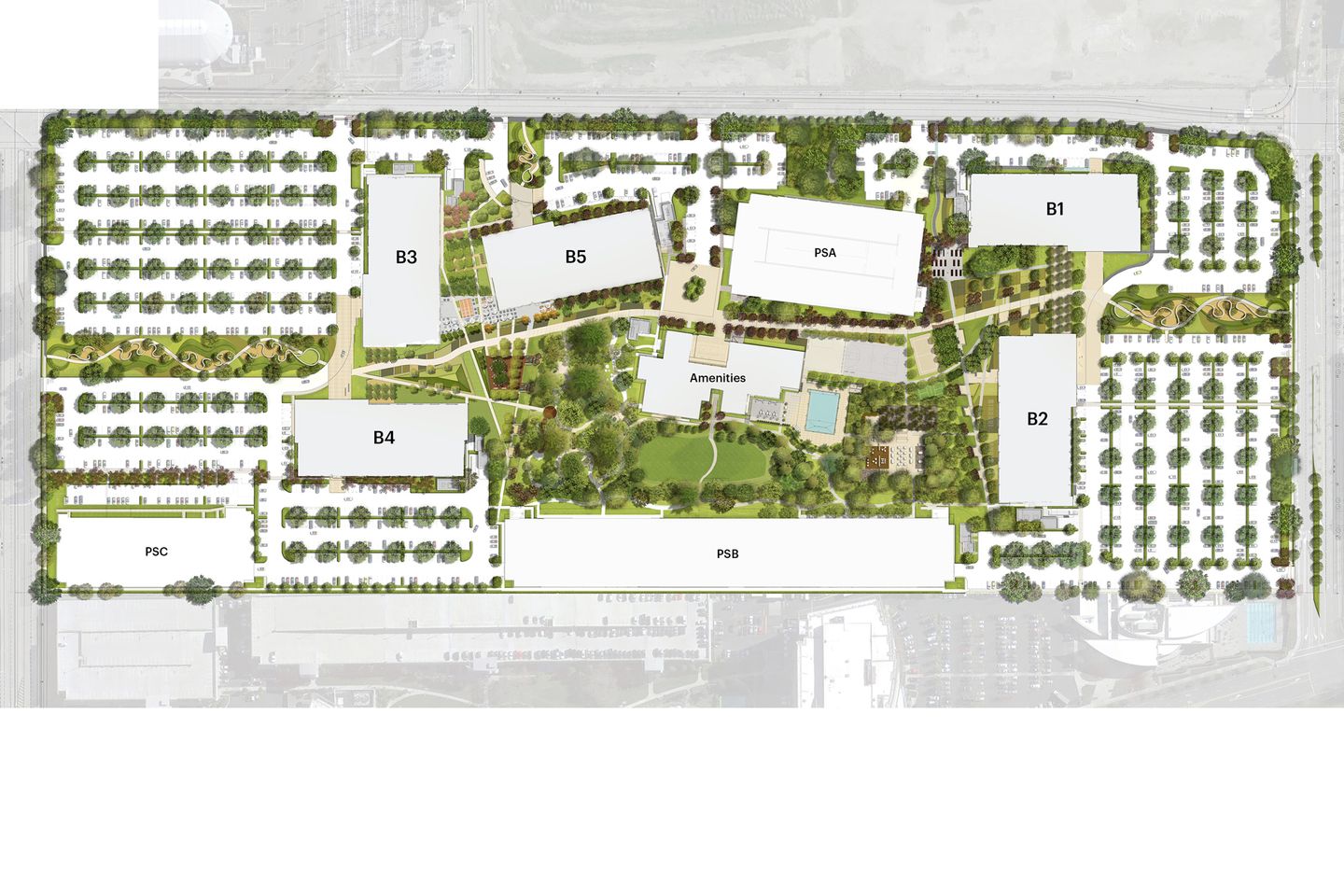 Garden, grove, and office
Although it was paved with surface parking, we discovered hundreds of mature trees on the existing site. That meant we could offer something rare for a new development: a mature landscape, from day one. The presence of these high-quality trees  inspired a plan to provide diverse and engaging experiences not only inside the buildings, but outside them as well.
We began our master plan by clustering five office towers around large swaths of open space, which defined areas for landscaping. We then created a variety of different pedestrian experiences for those areas that could each be appreciated for its unique quality, and its contribution to a cohesive campus experience.
"Art plazas" – broad walkways with sculptural benches – connect the neighboring streets and the campus greenspace.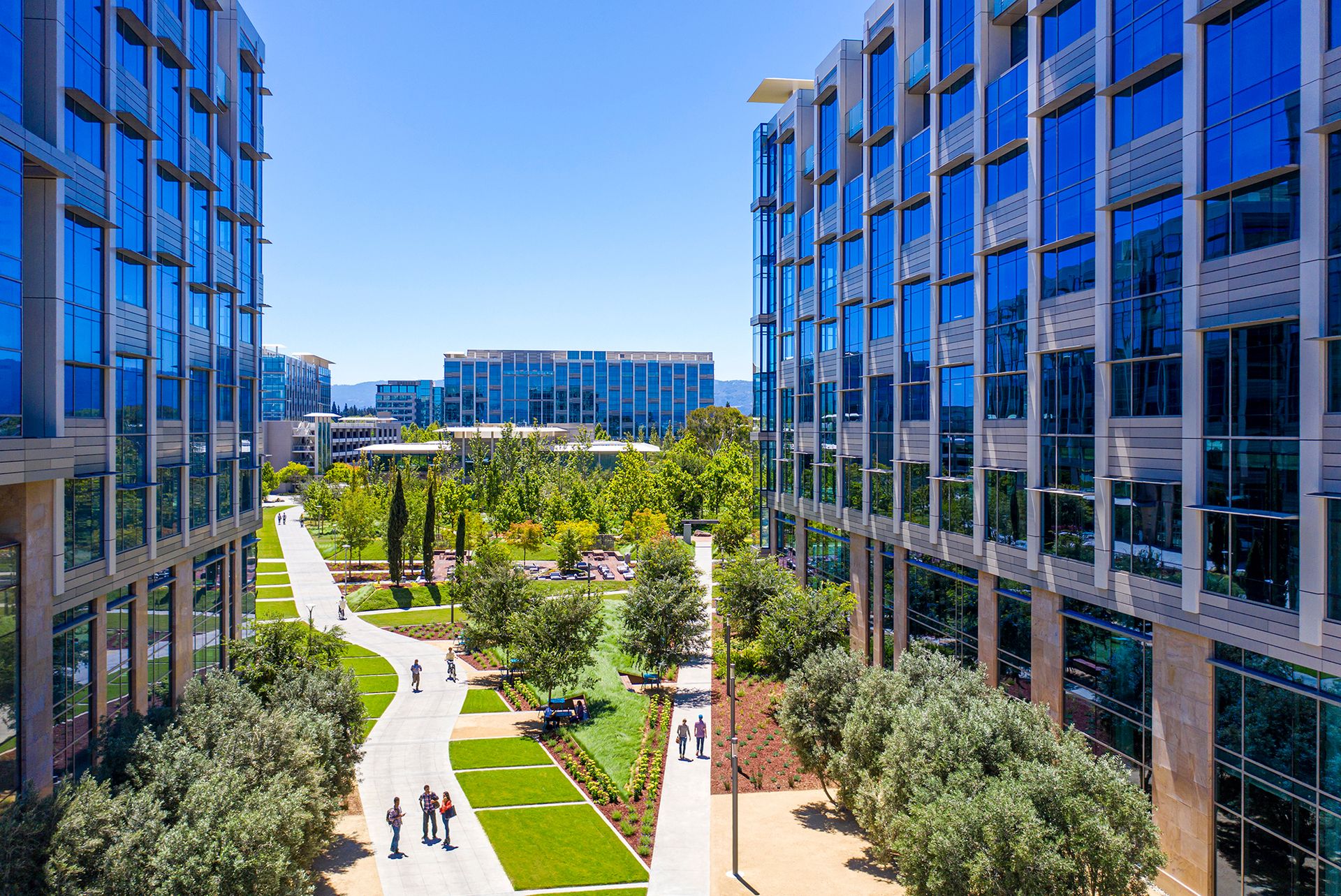 Groves of olive trees act as gateways signifying a transition from the plazas to the "modern gardens" that surround the campus buildings and provide convenient outdoor meeting spaces.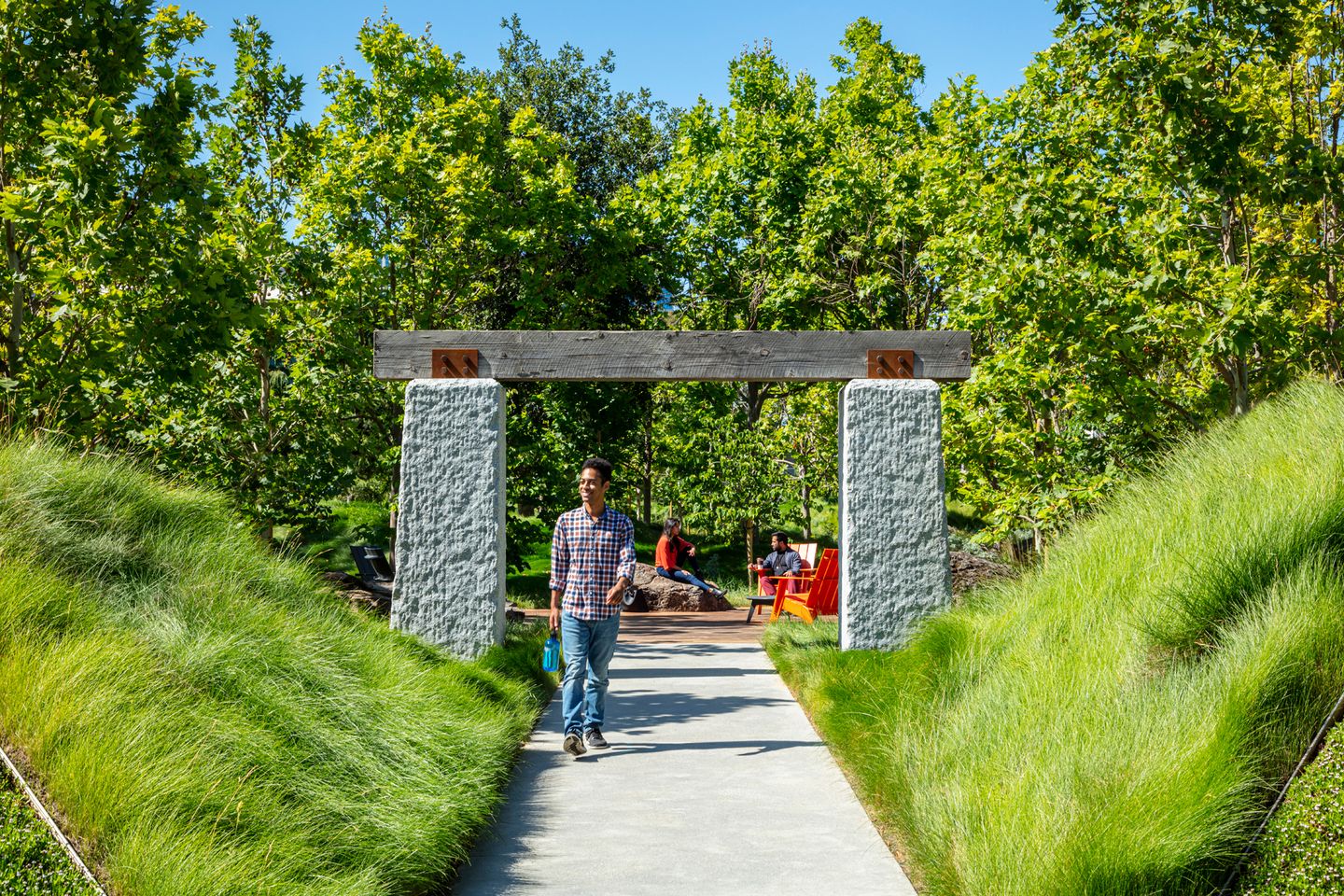 Finding the Forest in the Trees
Those heading beyond the gardens, toward the heart of the campus, encounter the central forest. We worked with the contractor to maintain and relocate the site's mature trees during the construction process and transplanted them to this area. Grouped together, the trees form a true natural woodland with winding paths – those wandering along them discover isolated clearings that suit outdoor work or relaxation, in an environment quite unlike that of any other Silicon Valley campus.
Nestled in the forest
Nestled in the forest is the indoor-outdoor amenities club. A low-slung building that contrasts architecturally with the towers, it is designed to blend into the landscape, featuring activity rooms that project out into the forest and offer immersive views of greenery. Like the campus at large, the club is hospitality-inspired, with outdoor areas, such as a resort-like patio and a cozy fireplace lounge, that function like indoor spaces. Envisioned as a haven, it caters to employee wellness.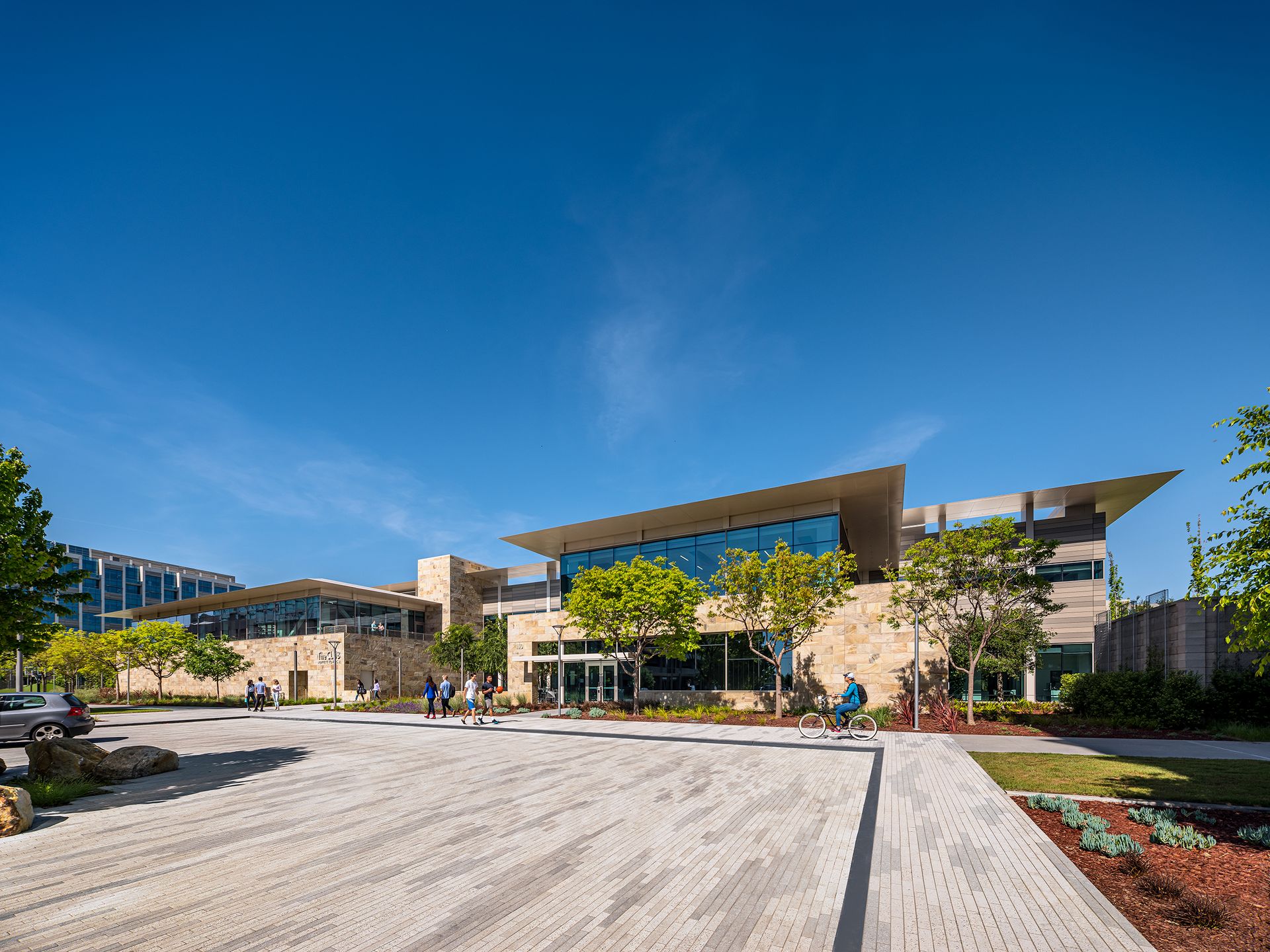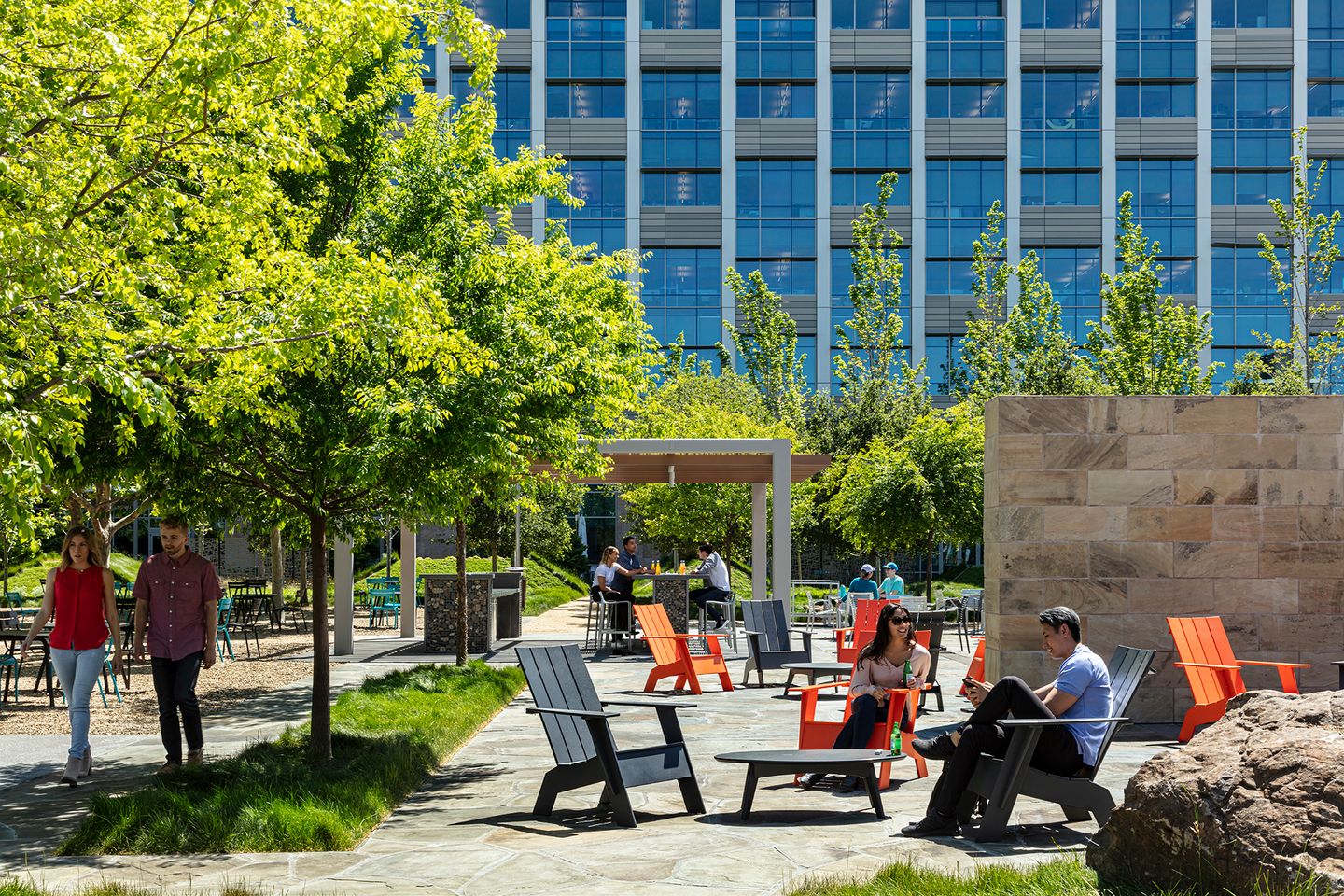 Cultivating an inspiring workplace
Fully leased to Amazon and Meta, this project is proving to be an inspiration for what workplaces, in the post-pandemic era, can and should be: environments that prioritize alternative work settings that foster creativity, collaboration, and community, and become destinations that employees look forward to visiting.
The outdoor areas have gained immense popularity among employees as places  to collaborate or to retreat from work, with some people commenting that the landscapes are so picturesque and appealing that they could be settings for wedding photos.
The City of Sunnyvale is thrilled with the project's results and has showcased images of the place, and the plan for it, in their promotional literature.
Key Info
Sustainability

LEED Platinum